{"id":1925062000691,"title":"(60% off \u0026 buy 2 free shipping) Food Containers","handle":"60-off-buy-2-free-shipping-food-containers","description":"\u003cp\u003e\u003cimg src=\"https:\/\/cdn.shopify.com\/s\/files\/1\/0223\/0294\/9440\/files\/safecheckout_large.png?v=1547880307\" alt=\"\"\u003e\u003c\/p\u003e\n\u003cp\u003e\u003cstrong\u003e\u003cspan\u003e \u003cimg src=\"https:\/\/cdn.shopify.com\/s\/files\/1\/0101\/1105\/7978\/files\/planeta-imagen-animada-0010_large_37ebd3cb-4a0e-4452-864b-4e104e821ccd_pico.gif?v=1528877547\" alt=\"\"\u003e  \u003c\/span\u003e\u003cspan\u003eSHIPPING WORLDWIDE\u003c\/span\u003e  \u003cimg src=\"https:\/\/cdn.shopify.com\/s\/files\/1\/0101\/1105\/7978\/files\/planeta-imagen-animada-0010_large_37ebd3cb-4a0e-4452-864b-4e104e821ccd_pico.gif?v=1528877547\" alt=\"\"\u003e\u003c\/strong\u003e\u003c\/p\u003e\n\u003cul\u003e\n\u003cli\u003e\n\u003cstrong\u003eDelivery time\u003c\/strong\u003e\u0026gt;\u0026gt; worldwide\u003cstrong\u003e 7-15\u003c\/strong\u003e days\u003c\/li\u003e\n\u003cli\u003e\n\u003cstrong\u003eReturns\u0026gt;\u0026gt; \u003c\/strong\u003eFast refund\u003cstrong\u003e,100% \u003c\/strong\u003eMoney Back Guarantee.\u003c\/li\u003e\n\u003cli\u003e😍\u003cstrong\u003e\u003cspan\u003e 99.4% Of Customers Buy 2 Or More. \u003c\/span\u003e\u003c\/strong\u003e😍\u003c\/li\u003e\n\u003cli\u003e\u003cspan\u003e\u003cstrong\u003eNotice:\u003c\/strong\u003e \u003cstrong\u003eIf you can't pay by Credit\/Debit Card, please pay with PayPal.\u003c\/strong\u003e\u003c\/span\u003e\u003c\/li\u003e\n\u003c\/ul\u003e\n\u003cp\u003e       \u003cimg src=\"https:\/\/odditymall.com\/includes\/content\/zip-top-containers-are-flexible-tupperware-that-dont-require-a-lid-thumb.gif\" alt=\"Zip Top Containers Are Flexible Tupperware That Don't Require a Lid\"\u003e\u003c\/p\u003e\n\u003cp\u003e\u003cspan\u003e\u003cstrong\u003eMade of 100% platinum silicone.\u003c\/strong\u003e\u003c\/span\u003e\u003cspan\u003e Virtually indestructible and endlessly reusable, these new containers will change the way you store, cook and even eat.\u003c\/span\u003e\u003c\/p\u003e\n\u003cp\u003e\u003cspan\u003e\u003cimg src=\"https:\/\/odditymall.com\/includes\/content\/upload\/zip-top-flexible-containers-3703.jpg\"\u003e\u003cimg src=\"https:\/\/ksr-ugc.imgix.net\/assets\/023\/110\/534\/aeb29f4b7f32d18454b3fa3873f745dd_original.jpg?ixlib=rb-1.1.0\u0026amp;w=680\u0026amp;fit=max\u0026amp;v=1541112890\u0026amp;auto=format\u0026amp;gif-q=50\u0026amp;q=92\u0026amp;s=a66e15e13b50f4f9d3f15adaaabc6462\"\u003e\u003c\/span\u003e\u003c\/p\u003e\n\u003cp\u003e\u003cspan\u003e\u003cimg src=\"https:\/\/ksr-ugc.imgix.net\/assets\/022\/755\/744\/b8ec575b08c78f305b6d2cd4295303ff_original.jpg?ixlib=rb-1.1.0\u0026amp;w=680\u0026amp;fit=max\u0026amp;v=1538505619\u0026amp;auto=format\u0026amp;gif-q=50\u0026amp;q=92\u0026amp;s=0d66277fd9251f8c28c3d2e3fdb31ee2\"\u003e\u003c\/span\u003e\u003c\/p\u003e\n\u003cp\u003e\u003cspan\u003e\u003cimg src=\"https:\/\/ksr-ugc.imgix.net\/assets\/022\/753\/925\/800f7b2a1322a0cff950e73b17af36d6_original.gif?ixlib=rb-1.1.0\u0026amp;w=680\u0026amp;fit=max\u0026amp;v=1538497537\u0026amp;auto=format\u0026amp;gif-q=50\u0026amp;q=92\u0026amp;s=cac9665a3f72611c98096cfc9a65d8ad\"\u003e\u003c\/span\u003e\u003c\/p\u003e\n\u003cp\u003e\u003cspan\u003e\u003cimg src=\"https:\/\/ksr-ugc.imgix.net\/assets\/022\/755\/083\/d4b7cc39f4f6aadfe7a5b24f45bfc793_original.jpg?ixlib=rb-1.1.0\u0026amp;w=680\u0026amp;fit=max\u0026amp;v=1538503181\u0026amp;auto=format\u0026amp;gif-q=50\u0026amp;q=92\u0026amp;s=a4da274fed31db0654b2b29871f0bab2\"\u003e\u003c\/span\u003e\u003c\/p\u003e\n\u003cp\u003e\u003cspan\u003ePlastic ends up in landfills where it can take hundreds of years to break down. And if the plastic doesn't end up in a landfill, it could end up in the ocean, where it can cause pollution and marine animal deaths.\u003c\/span\u003e\u003c\/p\u003e\n\u003cp\u003e\u003cspan\u003e\u003cimg src=\"https:\/\/ksr-ugc.imgix.net\/assets\/022\/755\/111\/46fde2354832754ebcab721b22c7a1a5_original.jpg?ixlib=rb-1.1.0\u0026amp;w=680\u0026amp;fit=max\u0026amp;v=1538503304\u0026amp;auto=format\u0026amp;gif-q=50\u0026amp;q=92\u0026amp;s=c3af8044bc290145355d65386a9d3f53\"\u003e\u003c\/span\u003e\u003c\/p\u003e\n\u003cp\u003ePlastic waste in the food storage industry is not only from disposable plastic bags. Most plastic storage containers are rendered useless and thrown away once their lids are lost, warped or damaged.\u003c\/p\u003e\n\u003cp\u003eZip Top® containers don't require lids!\u003cspan\u003e \u003c\/span\u003e\u003cspan\u003e\u003cstrong\u003eSo save your money and save the planet.\u003c\/strong\u003e\u003c\/span\u003e\u003c\/p\u003e\n\u003cp\u003e\u003cspan\u003e\u003cimg src=\"https:\/\/ksr-ugc.imgix.net\/assets\/022\/754\/975\/38d987810cd4f2b960108262e382e7c2_original.jpg?ixlib=rb-1.1.0\u0026amp;w=680\u0026amp;fit=max\u0026amp;v=1538502708\u0026amp;auto=format\u0026amp;gif-q=50\u0026amp;q=92\u0026amp;s=4292fe40b83bd7f9994745fee2ca62f7\"\u003e\u003c\/span\u003e\u003c\/p\u003e\n\u003cp\u003e\u003cspan\u003eTraditional plastic containers are petroleum-based and can contain harmful chemicals. These toxins can leach into your food, especially when heating or microwaving.  Every Zip Top® container is \u003cstrong\u003emade of 100% pure platinum silicone and is completely plastic-free\u003c\/strong\u003e.\u003c\/span\u003e\u003c\/p\u003e\n\u003cp\u003e\u003cspan\u003e\u003cimg src=\"https:\/\/ksr-ugc.imgix.net\/assets\/022\/756\/425\/5b5021fc8d0eaecd44aadf858ed28af0_original.jpg?ixlib=rb-1.1.0\u0026amp;w=680\u0026amp;fit=max\u0026amp;v=1538509392\u0026amp;auto=format\u0026amp;gif-q=50\u0026amp;q=92\u0026amp;s=41b210bc0a80ac8b487738a2efa23eae\"\u003e\u003c\/span\u003e\u003c\/p\u003e\n\u003cp\u003e\u003cspan\u003e\u003cstrong\u003eIdeal for meals on the go.\u003c\/strong\u003e Simply pull the zipper apart and you have an open dish with a wide open top. Hold your favorite salad, morning oatmeal, kid's snacks, or fruit.\u003cstrong\u003e A great storage solution for craft supplies, like crayons\u003c\/strong\u003e. Ideal for travel, use the dish for toiletries, cords, cosmetics or snacks. \u003c\/span\u003e\u003c\/p\u003e\n\u003cp\u003e\u003cspan\u003e\u003cimg src=\"https:\/\/ksr-ugc.imgix.net\/assets\/022\/756\/429\/948c0145e168dd0c325bccd57e4ba818_original.jpg?ixlib=rb-1.1.0\u0026amp;w=680\u0026amp;fit=max\u0026amp;v=1538509417\u0026amp;auto=format\u0026amp;gif-q=50\u0026amp;q=92\u0026amp;s=f016569b845c381c4a92794811c32c01\"\u003e\u003c\/span\u003e\u003c\/p\u003e\n\u003cdiv\u003e\n\u003cp\u003eThe first zippered bag to stand tall and stay open. It's perfect for lunches at work, school or wherever. Best of all, this bag actually gets clean in the dishwasher with its open rounded interior.  \u003c\/p\u003e\n\u003c\/div\u003e\n\u003cp\u003e\u003cspan\u003e\u003cstrong\u003eGoodbye, floppy bags!\u003c\/strong\u003e\u003c\/span\u003e\u003c\/p\u003e\n\u003cp\u003e\u003cspan\u003e\u003cstrong\u003e\u003cimg src=\"https:\/\/ksr-ugc.imgix.net\/assets\/022\/756\/473\/bbe291093069c5616105c3722963c5b6_original.jpg?ixlib=rb-1.1.0\u0026amp;w=680\u0026amp;fit=max\u0026amp;v=1538509610\u0026amp;auto=format\u0026amp;gif-q=50\u0026amp;q=92\u0026amp;s=e712b12a74a0083c6840c46c1a618a41\"\u003e\u003c\/strong\u003e\u003c\/span\u003e\u003c\/p\u003e\n\u003cp\u003e \u003c\/p\u003e\n\u003cp\u003e \u003c\/p\u003e\n\u003cp\u003e\u003cspan\u003eDesigned for versatility. Soups, chilis and sauces can all go from freezer to microwave to table. But don't stop there. \u003cstrong\u003eUse it for travel or on the go\u003c\/strong\u003e.\u003c\/span\u003e\u003c\/p\u003e\n\u003cp\u003e\u003cspan\u003e\u003cimg src=\"https:\/\/odditymall.com\/includes\/content\/upload\/zip-top-flexible-containers-5089.gif\"\u003e\u003c\/span\u003e\u003c\/p\u003e\n\u003cdiv\u003e\n\u003cdiv\u003e\n\u003cdiv\u003e\n\u003cp\u003e\u003cstrong\u003e\u003cspan\u003eDescription:\u003c\/span\u003e\u003c\/strong\u003e\u003c\/p\u003e\n\u003c\/div\u003e\n\u003c\/div\u003e\n\u003c\/div\u003e\n\u003cp\u003e\u003cspan\u003eThis is one of your best reusable silicone food bag with a number of features to keep you and your family safe while enjoying the convenience of on-the-go snacks or meals when at home, camping, work or school. Completely isolated from the air to enter, to achieve best preservation effect.\u003c\/span\u003e\u003c\/p\u003e\n\u003cul\u003e\u003c\/ul\u003e\n\u003cp\u003e\u003cstrong\u003eSpecifications\u003c\/strong\u003e\u003cem\u003e:\u003c\/em\u003e\u003c\/p\u003e\n\u003cul\u003e\n\u003cli\u003e\u003cem\u003e\u003cstrong\u003eMaterial:\u003c\/strong\u003e Silicone\u003c\/em\u003e\u003c\/li\u003e\n\u003cli\u003e\u003cem\u003e\u003cstrong\u003eFeature:\u003c\/strong\u003e Eco-Friendly,Stocked\u003c\/em\u003e\u003c\/li\u003e\n\u003cli\u003e\u003cem\u003e\u003cstrong\u003ePackage Weight:\u003c\/strong\u003e 0.052kg (0.11lb.)\u003c\/em\u003e\u003c\/li\u003e\n\u003cli\u003e\u003cem\u003e\u003cstrong\u003ePackage Size:\u003c\/strong\u003e 18cm x 14cm x 4cm (7.09in x 5.51in x 1.57in)\u003c\/em\u003e\u003c\/li\u003e\n\u003c\/ul\u003e\n\u003cp\u003e \u003c\/p\u003e\n\u003cp\u003e \u003c\/p\u003e","published_at":"2019-06-04T05:06:22-04:00","created_at":"2019-06-04T05:57:43-04:00","vendor":"Hometools","type":"Houseware\u0026Kitchen","tags":["Houseware\u0026Kitchen"],"price":1699,"price_min":1699,"price_max":1999,"available":true,"price_varies":true,"compare_at_price":3099,"compare_at_price_min":3099,"compare_at_price_max":4599,"compare_at_price_varies":true,"variants":[{"id":17599252987955,"title":"Blue \/ Bag(2PCS)","option1":"Blue","option2":"Bag(2PCS)","option3":null,"sku":"T0004_BL_2","requires_shipping":true,"taxable":false,"featured_image":{"id":5922300297267,"product_id":1925062000691,"position":20,"created_at":"2019-06-04T05:58:17-04:00","updated_at":"2019-06-04T05:58:17-04:00","alt":null,"width":720,"height":720,"src":"https:\/\/cdn.shopify.com\/s\/files\/1\/0024\/0218\/9363\/products\/Food_Containers_17.jpg?v=1559642297","variant_ids":[17599252987955]},"available":true,"name":"(60% off \u0026 buy 2 free shipping) Food Containers - Blue \/ Bag(2PCS)","public_title":"Blue \/ Bag(2PCS)","options":["Blue","Bag(2PCS)"],"price":1699,"weight":0,"compare_at_price":3099,"inventory_management":null,"barcode":""},{"id":17599253020723,"title":"Blue \/ Cup(3PCS)","option1":"Blue","option2":"Cup(3PCS)","option3":null,"sku":"T0004_BL_3","requires_shipping":true,"taxable":false,"featured_image":{"id":5922300330035,"product_id":1925062000691,"position":21,"created_at":"2019-06-04T05:58:18-04:00","updated_at":"2019-06-04T05:58:18-04:00","alt":null,"width":720,"height":720,"src":"https:\/\/cdn.shopify.com\/s\/files\/1\/0024\/0218\/9363\/products\/Food_Containers_18.jpg?v=1559642298","variant_ids":[17599253020723]},"available":true,"name":"(60% off \u0026 buy 2 free shipping) Food Containers - Blue \/ Cup(3PCS)","public_title":"Blue \/ Cup(3PCS)","options":["Blue","Cup(3PCS)"],"price":1888,"weight":0,"compare_at_price":4099,"inventory_management":null,"barcode":""},{"id":17599253053491,"title":"Blue \/ Bowl(3PCS)","option1":"Blue","option2":"Bowl(3PCS)","option3":null,"sku":"T0004_BL_4","requires_shipping":true,"taxable":false,"featured_image":{"id":5922300362803,"product_id":1925062000691,"position":22,"created_at":"2019-06-04T05:58:19-04:00","updated_at":"2019-06-04T05:58:19-04:00","alt":null,"width":720,"height":720,"src":"https:\/\/cdn.shopify.com\/s\/files\/1\/0024\/0218\/9363\/products\/Food_Containers_19.jpg?v=1559642299","variant_ids":[17599253053491]},"available":true,"name":"(60% off \u0026 buy 2 free shipping) Food Containers - Blue \/ Bowl(3PCS)","public_title":"Blue \/ Bowl(3PCS)","options":["Blue","Bowl(3PCS)"],"price":1999,"weight":0,"compare_at_price":4599,"inventory_management":null,"barcode":""},{"id":17599253086259,"title":"Gray \/ Bag(2PCS)","option1":"Gray","option2":"Bag(2PCS)","option3":null,"sku":"T0004_GR_2","requires_shipping":true,"taxable":false,"featured_image":{"id":5922300133427,"product_id":1925062000691,"position":17,"created_at":"2019-06-04T05:58:13-04:00","updated_at":"2019-06-04T05:58:13-04:00","alt":null,"width":590,"height":590,"src":"https:\/\/cdn.shopify.com\/s\/files\/1\/0024\/0218\/9363\/products\/Food_Containers_14.gif?v=1559642293","variant_ids":[17599253086259]},"available":true,"name":"(60% off \u0026 buy 2 free shipping) Food Containers - Gray \/ Bag(2PCS)","public_title":"Gray \/ Bag(2PCS)","options":["Gray","Bag(2PCS)"],"price":1699,"weight":0,"compare_at_price":3099,"inventory_management":null,"barcode":""},{"id":17599253119027,"title":"Gray \/ Cup(3PCS)","option1":"Gray","option2":"Cup(3PCS)","option3":null,"sku":"T0004_GR_3","requires_shipping":true,"taxable":false,"featured_image":{"id":5922300198963,"product_id":1925062000691,"position":18,"created_at":"2019-06-04T05:58:14-04:00","updated_at":"2019-06-04T05:58:14-04:00","alt":null,"width":720,"height":720,"src":"https:\/\/cdn.shopify.com\/s\/files\/1\/0024\/0218\/9363\/products\/Food_Containers_15.jpg?v=1559642294","variant_ids":[17599253119027]},"available":true,"name":"(60% off \u0026 buy 2 free shipping) Food Containers - Gray \/ Cup(3PCS)","public_title":"Gray \/ Cup(3PCS)","options":["Gray","Cup(3PCS)"],"price":1888,"weight":0,"compare_at_price":4099,"inventory_management":null,"barcode":""},{"id":17599253151795,"title":"Gray \/ Bowl(3PCS)","option1":"Gray","option2":"Bowl(3PCS)","option3":null,"sku":"T0004_GR_4","requires_shipping":true,"taxable":false,"featured_image":{"id":5922300264499,"product_id":1925062000691,"position":19,"created_at":"2019-06-04T05:58:16-04:00","updated_at":"2019-06-04T05:58:16-04:00","alt":null,"width":720,"height":720,"src":"https:\/\/cdn.shopify.com\/s\/files\/1\/0024\/0218\/9363\/products\/Food_Containers_16.jpg?v=1559642296","variant_ids":[17599253151795]},"available":true,"name":"(60% off \u0026 buy 2 free shipping) Food Containers - Gray \/ Bowl(3PCS)","public_title":"Gray \/ Bowl(3PCS)","options":["Gray","Bowl(3PCS)"],"price":1999,"weight":0,"compare_at_price":4599,"inventory_management":null,"barcode":""}],"images":["\/\/cdn.shopify.com\/s\/files\/1\/0024\/0218\/9363\/products\/Food_Containers_1.jpg?v=1559642268","\/\/cdn.shopify.com\/s\/files\/1\/0024\/0218\/9363\/products\/Food_Containers_2.jpg?v=1559642270","\/\/cdn.shopify.com\/s\/files\/1\/0024\/0218\/9363\/products\/Food_Containers_21.jpg?v=1559642272","\/\/cdn.shopify.com\/s\/files\/1\/0024\/0218\/9363\/products\/Food_Containers_20.jpg?v=1559642274","\/\/cdn.shopify.com\/s\/files\/1\/0024\/0218\/9363\/products\/Food_Containers_22.jpg?v=1559642275","\/\/cdn.shopify.com\/s\/files\/1\/0024\/0218\/9363\/products\/Food_Containers_3.jpg?v=1559642277","\/\/cdn.shopify.com\/s\/files\/1\/0024\/0218\/9363\/products\/Food_Containers_4.gif?v=1559642280","\/\/cdn.shopify.com\/s\/files\/1\/0024\/0218\/9363\/products\/Food_Containers_5.gif?v=1559642282","\/\/cdn.shopify.com\/s\/files\/1\/0024\/0218\/9363\/products\/Food_Containers_6.jpg?v=1559642283","\/\/cdn.shopify.com\/s\/files\/1\/0024\/0218\/9363\/products\/Food_Containers_7.jpg?v=1559642284","\/\/cdn.shopify.com\/s\/files\/1\/0024\/0218\/9363\/products\/Food_Containers_8.jpg?v=1559642286","\/\/cdn.shopify.com\/s\/files\/1\/0024\/0218\/9363\/products\/Food_Containers_9.jpg?v=1559642287","\/\/cdn.shopify.com\/s\/files\/1\/0024\/0218\/9363\/products\/Food_Containers_10.jpg?v=1559642289","\/\/cdn.shopify.com\/s\/files\/1\/0024\/0218\/9363\/products\/Food_Containers_11.jpg?v=1559642290","\/\/cdn.shopify.com\/s\/files\/1\/0024\/0218\/9363\/products\/Food_Containers_12.jpg?v=1559642291","\/\/cdn.shopify.com\/s\/files\/1\/0024\/0218\/9363\/products\/Food_Containers_13.jpg?v=1559642292","\/\/cdn.shopify.com\/s\/files\/1\/0024\/0218\/9363\/products\/Food_Containers_14.gif?v=1559642293","\/\/cdn.shopify.com\/s\/files\/1\/0024\/0218\/9363\/products\/Food_Containers_15.jpg?v=1559642294","\/\/cdn.shopify.com\/s\/files\/1\/0024\/0218\/9363\/products\/Food_Containers_16.jpg?v=1559642296","\/\/cdn.shopify.com\/s\/files\/1\/0024\/0218\/9363\/products\/Food_Containers_17.jpg?v=1559642297","\/\/cdn.shopify.com\/s\/files\/1\/0024\/0218\/9363\/products\/Food_Containers_18.jpg?v=1559642298","\/\/cdn.shopify.com\/s\/files\/1\/0024\/0218\/9363\/products\/Food_Containers_19.jpg?v=1559642299"],"featured_image":"\/\/cdn.shopify.com\/s\/files\/1\/0024\/0218\/9363\/products\/Food_Containers_1.jpg?v=1559642268","options":["Color","Size"],"content":"\u003cp\u003e\u003cimg src=\"https:\/\/cdn.shopify.com\/s\/files\/1\/0223\/0294\/9440\/files\/safecheckout_large.png?v=1547880307\" alt=\"\"\u003e\u003c\/p\u003e\n\u003cp\u003e\u003cstrong\u003e\u003cspan\u003e \u003cimg src=\"https:\/\/cdn.shopify.com\/s\/files\/1\/0101\/1105\/7978\/files\/planeta-imagen-animada-0010_large_37ebd3cb-4a0e-4452-864b-4e104e821ccd_pico.gif?v=1528877547\" alt=\"\"\u003e  \u003c\/span\u003e\u003cspan\u003eSHIPPING WORLDWIDE\u003c\/span\u003e  \u003cimg src=\"https:\/\/cdn.shopify.com\/s\/files\/1\/0101\/1105\/7978\/files\/planeta-imagen-animada-0010_large_37ebd3cb-4a0e-4452-864b-4e104e821ccd_pico.gif?v=1528877547\" alt=\"\"\u003e\u003c\/strong\u003e\u003c\/p\u003e\n\u003cul\u003e\n\u003cli\u003e\n\u003cstrong\u003eDelivery time\u003c\/strong\u003e\u0026gt;\u0026gt; worldwide\u003cstrong\u003e 7-15\u003c\/strong\u003e days\u003c\/li\u003e\n\u003cli\u003e\n\u003cstrong\u003eReturns\u0026gt;\u0026gt; \u003c\/strong\u003eFast refund\u003cstrong\u003e,100% \u003c\/strong\u003eMoney Back Guarantee.\u003c\/li\u003e\n\u003cli\u003e😍\u003cstrong\u003e\u003cspan\u003e 99.4% Of Customers Buy 2 Or More. \u003c\/span\u003e\u003c\/strong\u003e😍\u003c\/li\u003e\n\u003cli\u003e\u003cspan\u003e\u003cstrong\u003eNotice:\u003c\/strong\u003e \u003cstrong\u003eIf you can't pay by Credit\/Debit Card, please pay with PayPal.\u003c\/strong\u003e\u003c\/span\u003e\u003c\/li\u003e\n\u003c\/ul\u003e\n\u003cp\u003e       \u003cimg src=\"https:\/\/odditymall.com\/includes\/content\/zip-top-containers-are-flexible-tupperware-that-dont-require-a-lid-thumb.gif\" alt=\"Zip Top Containers Are Flexible Tupperware That Don't Require a Lid\"\u003e\u003c\/p\u003e\n\u003cp\u003e\u003cspan\u003e\u003cstrong\u003eMade of 100% platinum silicone.\u003c\/strong\u003e\u003c\/span\u003e\u003cspan\u003e Virtually indestructible and endlessly reusable, these new containers will change the way you store, cook and even eat.\u003c\/span\u003e\u003c\/p\u003e\n\u003cp\u003e\u003cspan\u003e\u003cimg src=\"https:\/\/odditymall.com\/includes\/content\/upload\/zip-top-flexible-containers-3703.jpg\"\u003e\u003cimg src=\"https:\/\/ksr-ugc.imgix.net\/assets\/023\/110\/534\/aeb29f4b7f32d18454b3fa3873f745dd_original.jpg?ixlib=rb-1.1.0\u0026amp;w=680\u0026amp;fit=max\u0026amp;v=1541112890\u0026amp;auto=format\u0026amp;gif-q=50\u0026amp;q=92\u0026amp;s=a66e15e13b50f4f9d3f15adaaabc6462\"\u003e\u003c\/span\u003e\u003c\/p\u003e\n\u003cp\u003e\u003cspan\u003e\u003cimg src=\"https:\/\/ksr-ugc.imgix.net\/assets\/022\/755\/744\/b8ec575b08c78f305b6d2cd4295303ff_original.jpg?ixlib=rb-1.1.0\u0026amp;w=680\u0026amp;fit=max\u0026amp;v=1538505619\u0026amp;auto=format\u0026amp;gif-q=50\u0026amp;q=92\u0026amp;s=0d66277fd9251f8c28c3d2e3fdb31ee2\"\u003e\u003c\/span\u003e\u003c\/p\u003e\n\u003cp\u003e\u003cspan\u003e\u003cimg src=\"https:\/\/ksr-ugc.imgix.net\/assets\/022\/753\/925\/800f7b2a1322a0cff950e73b17af36d6_original.gif?ixlib=rb-1.1.0\u0026amp;w=680\u0026amp;fit=max\u0026amp;v=1538497537\u0026amp;auto=format\u0026amp;gif-q=50\u0026amp;q=92\u0026amp;s=cac9665a3f72611c98096cfc9a65d8ad\"\u003e\u003c\/span\u003e\u003c\/p\u003e\n\u003cp\u003e\u003cspan\u003e\u003cimg src=\"https:\/\/ksr-ugc.imgix.net\/assets\/022\/755\/083\/d4b7cc39f4f6aadfe7a5b24f45bfc793_original.jpg?ixlib=rb-1.1.0\u0026amp;w=680\u0026amp;fit=max\u0026amp;v=1538503181\u0026amp;auto=format\u0026amp;gif-q=50\u0026amp;q=92\u0026amp;s=a4da274fed31db0654b2b29871f0bab2\"\u003e\u003c\/span\u003e\u003c\/p\u003e\n\u003cp\u003e\u003cspan\u003ePlastic ends up in landfills where it can take hundreds of years to break down. And if the plastic doesn't end up in a landfill, it could end up in the ocean, where it can cause pollution and marine animal deaths.\u003c\/span\u003e\u003c\/p\u003e\n\u003cp\u003e\u003cspan\u003e\u003cimg src=\"https:\/\/ksr-ugc.imgix.net\/assets\/022\/755\/111\/46fde2354832754ebcab721b22c7a1a5_original.jpg?ixlib=rb-1.1.0\u0026amp;w=680\u0026amp;fit=max\u0026amp;v=1538503304\u0026amp;auto=format\u0026amp;gif-q=50\u0026amp;q=92\u0026amp;s=c3af8044bc290145355d65386a9d3f53\"\u003e\u003c\/span\u003e\u003c\/p\u003e\n\u003cp\u003ePlastic waste in the food storage industry is not only from disposable plastic bags. Most plastic storage containers are rendered useless and thrown away once their lids are lost, warped or damaged.\u003c\/p\u003e\n\u003cp\u003eZip Top® containers don't require lids!\u003cspan\u003e \u003c\/span\u003e\u003cspan\u003e\u003cstrong\u003eSo save your money and save the planet.\u003c\/strong\u003e\u003c\/span\u003e\u003c\/p\u003e\n\u003cp\u003e\u003cspan\u003e\u003cimg src=\"https:\/\/ksr-ugc.imgix.net\/assets\/022\/754\/975\/38d987810cd4f2b960108262e382e7c2_original.jpg?ixlib=rb-1.1.0\u0026amp;w=680\u0026amp;fit=max\u0026amp;v=1538502708\u0026amp;auto=format\u0026amp;gif-q=50\u0026amp;q=92\u0026amp;s=4292fe40b83bd7f9994745fee2ca62f7\"\u003e\u003c\/span\u003e\u003c\/p\u003e\n\u003cp\u003e\u003cspan\u003eTraditional plastic containers are petroleum-based and can contain harmful chemicals. These toxins can leach into your food, especially when heating or microwaving.  Every Zip Top® container is \u003cstrong\u003emade of 100% pure platinum silicone and is completely plastic-free\u003c\/strong\u003e.\u003c\/span\u003e\u003c\/p\u003e\n\u003cp\u003e\u003cspan\u003e\u003cimg src=\"https:\/\/ksr-ugc.imgix.net\/assets\/022\/756\/425\/5b5021fc8d0eaecd44aadf858ed28af0_original.jpg?ixlib=rb-1.1.0\u0026amp;w=680\u0026amp;fit=max\u0026amp;v=1538509392\u0026amp;auto=format\u0026amp;gif-q=50\u0026amp;q=92\u0026amp;s=41b210bc0a80ac8b487738a2efa23eae\"\u003e\u003c\/span\u003e\u003c\/p\u003e\n\u003cp\u003e\u003cspan\u003e\u003cstrong\u003eIdeal for meals on the go.\u003c\/strong\u003e Simply pull the zipper apart and you have an open dish with a wide open top. Hold your favorite salad, morning oatmeal, kid's snacks, or fruit.\u003cstrong\u003e A great storage solution for craft supplies, like crayons\u003c\/strong\u003e. Ideal for travel, use the dish for toiletries, cords, cosmetics or snacks. \u003c\/span\u003e\u003c\/p\u003e\n\u003cp\u003e\u003cspan\u003e\u003cimg src=\"https:\/\/ksr-ugc.imgix.net\/assets\/022\/756\/429\/948c0145e168dd0c325bccd57e4ba818_original.jpg?ixlib=rb-1.1.0\u0026amp;w=680\u0026amp;fit=max\u0026amp;v=1538509417\u0026amp;auto=format\u0026amp;gif-q=50\u0026amp;q=92\u0026amp;s=f016569b845c381c4a92794811c32c01\"\u003e\u003c\/span\u003e\u003c\/p\u003e\n\u003cdiv\u003e\n\u003cp\u003eThe first zippered bag to stand tall and stay open. It's perfect for lunches at work, school or wherever. Best of all, this bag actually gets clean in the dishwasher with its open rounded interior.  \u003c\/p\u003e\n\u003c\/div\u003e\n\u003cp\u003e\u003cspan\u003e\u003cstrong\u003eGoodbye, floppy bags!\u003c\/strong\u003e\u003c\/span\u003e\u003c\/p\u003e\n\u003cp\u003e\u003cspan\u003e\u003cstrong\u003e\u003cimg src=\"https:\/\/ksr-ugc.imgix.net\/assets\/022\/756\/473\/bbe291093069c5616105c3722963c5b6_original.jpg?ixlib=rb-1.1.0\u0026amp;w=680\u0026amp;fit=max\u0026amp;v=1538509610\u0026amp;auto=format\u0026amp;gif-q=50\u0026amp;q=92\u0026amp;s=e712b12a74a0083c6840c46c1a618a41\"\u003e\u003c\/strong\u003e\u003c\/span\u003e\u003c\/p\u003e\n\u003cp\u003e \u003c\/p\u003e\n\u003cp\u003e \u003c\/p\u003e\n\u003cp\u003e\u003cspan\u003eDesigned for versatility. Soups, chilis and sauces can all go from freezer to microwave to table. But don't stop there. \u003cstrong\u003eUse it for travel or on the go\u003c\/strong\u003e.\u003c\/span\u003e\u003c\/p\u003e\n\u003cp\u003e\u003cspan\u003e\u003cimg src=\"https:\/\/odditymall.com\/includes\/content\/upload\/zip-top-flexible-containers-5089.gif\"\u003e\u003c\/span\u003e\u003c\/p\u003e\n\u003cdiv\u003e\n\u003cdiv\u003e\n\u003cdiv\u003e\n\u003cp\u003e\u003cstrong\u003e\u003cspan\u003eDescription:\u003c\/span\u003e\u003c\/strong\u003e\u003c\/p\u003e\n\u003c\/div\u003e\n\u003c\/div\u003e\n\u003c\/div\u003e\n\u003cp\u003e\u003cspan\u003eThis is one of your best reusable silicone food bag with a number of features to keep you and your family safe while enjoying the convenience of on-the-go snacks or meals when at home, camping, work or school. Completely isolated from the air to enter, to achieve best preservation effect.\u003c\/span\u003e\u003c\/p\u003e\n\u003cul\u003e\u003c\/ul\u003e\n\u003cp\u003e\u003cstrong\u003eSpecifications\u003c\/strong\u003e\u003cem\u003e:\u003c\/em\u003e\u003c\/p\u003e\n\u003cul\u003e\n\u003cli\u003e\u003cem\u003e\u003cstrong\u003eMaterial:\u003c\/strong\u003e Silicone\u003c\/em\u003e\u003c\/li\u003e\n\u003cli\u003e\u003cem\u003e\u003cstrong\u003eFeature:\u003c\/strong\u003e Eco-Friendly,Stocked\u003c\/em\u003e\u003c\/li\u003e\n\u003cli\u003e\u003cem\u003e\u003cstrong\u003ePackage Weight:\u003c\/strong\u003e 0.052kg (0.11lb.)\u003c\/em\u003e\u003c\/li\u003e\n\u003cli\u003e\u003cem\u003e\u003cstrong\u003ePackage Size:\u003c\/strong\u003e 18cm x 14cm x 4cm (7.09in x 5.51in x 1.57in)\u003c\/em\u003e\u003c\/li\u003e\n\u003c\/ul\u003e\n\u003cp\u003e \u003c\/p\u003e\n\u003cp\u003e \u003c\/p\u003e"}
(60% off & buy 2 free shipping) Food Containers
(60% off & buy 2 free shipping) Food Containers
Product Description
  SHIPPING WORLDWIDE  
Delivery time>> worldwide 7-15 days
Returns>> Fast refund,100% Money Back Guarantee.
😍

 99.4% Of Customers Buy 2 Or More. 

😍
Notice: If you can't pay by Credit/Debit Card, please pay with PayPal.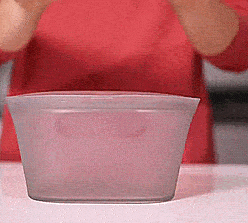 Made of 100% platinum silicone. Virtually indestructible and endlessly reusable, these new containers will change the way you store, cook and even eat.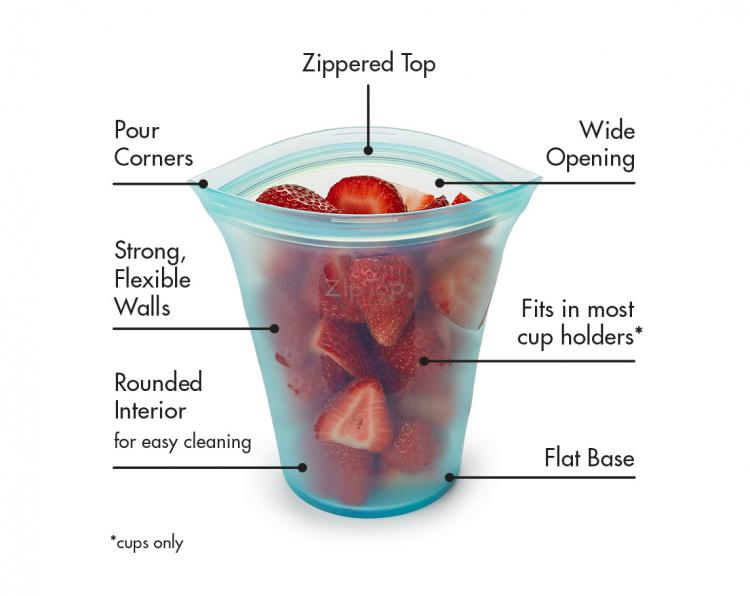 Plastic ends up in landfills where it can take hundreds of years to break down. And if the plastic doesn't end up in a landfill, it could end up in the ocean, where it can cause pollution and marine animal deaths.
Plastic waste in the food storage industry is not only from disposable plastic bags. Most plastic storage containers are rendered useless and thrown away once their lids are lost, warped or damaged.
Zip Top® containers don't require lids! So save your money and save the planet.
Traditional plastic containers are petroleum-based and can contain harmful chemicals. These toxins can leach into your food, especially when heating or microwaving.  Every Zip Top® container is made of 100% pure platinum silicone and is completely plastic-free.
Ideal for meals on the go. Simply pull the zipper apart and you have an open dish with a wide open top. Hold your favorite salad, morning oatmeal, kid's snacks, or fruit. A great storage solution for craft supplies, like crayons. Ideal for travel, use the dish for toiletries, cords, cosmetics or snacks. 
The first zippered bag to stand tall and stay open. It's perfect for lunches at work, school or wherever. Best of all, this bag actually gets clean in the dishwasher with its open rounded interior.  
Goodbye, floppy bags!
Designed for versatility. Soups, chilis and sauces can all go from freezer to microwave to table. But don't stop there. Use it for travel or on the go.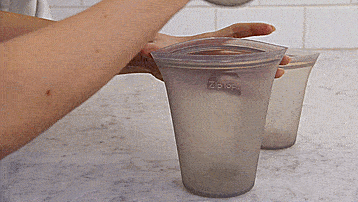 This is one of your best reusable silicone food bag with a number of features to keep you and your family safe while enjoying the convenience of on-the-go snacks or meals when at home, camping, work or school. Completely isolated from the air to enter, to achieve best preservation effect.
Specifications:
Material: Silicone
Feature: Eco-Friendly,Stocked
Package Weight: 0.052kg (0.11lb.)
Package Size: 18cm x 14cm x 4cm (7.09in x 5.51in x 1.57in)