{"id":1923924033587,"title":"Military Grade Two-Way Transceiver","handle":"military-grade-two-way-transceiver","description":"\u003cp\u003e\u003cimg src=\"\/\/cdn.shopify.com\/s\/files\/1\/0223\/0294\/9440\/files\/safecheckout_large.png?v=1547880307\" alt=\"\"\u003e\u003c\/p\u003e\n\u003cp\u003eCommunicate clearly, freely and instantly with this\u003cb\u003e\u003cstrong\u003e\u003cspan\u003e \u003c\/span\u003eMilitary Grade Two-Way Radio Transceiver!\u003cspan\u003e \u003c\/span\u003e\u003c\/strong\u003e\u003c\/b\u003eCompared to a mobile phone, this device doesn't cost a dime to call out on anyone. With its integrated antenna, you simply press the button and reach out to everyone without trouble – even in spots where mobile signal is unavailable! This is the\u003cspan\u003e \u003c\/span\u003e\u003cspan\u003e\u003cstrong\u003ePerfect\u003c\/strong\u003e\u003c\/span\u003e\u003cspan\u003e \u003c\/span\u003ewalkie-talkie for your camping and hunting excursions! \u003c\/p\u003e\n\u003cp\u003e\u003cimg src=\"https:\/\/cdn.shopify.com\/s\/files\/1\/0013\/7727\/1880\/files\/Two-Way_Radio_Transceiver_PP.gif?2046652650401029124\"\u003e\u003c\/p\u003e\n\u003cul\u003e\n\u003cli\u003e\n\u003cspan\u003e\u003cb\u003e\u003cstrong\u003eLong-distance frequency coverage\u003c\/strong\u003e\u003c\/b\u003e\u003c\/span\u003e\u003cspan\u003e \u003c\/span\u003e– This is a micro-miniature multiband FM transceiver created to reach long distances with\u003cspan\u003e \u003c\/span\u003e\u003cspan\u003e\u003cstrong\u003ewide-ranging frequency coverage\u003c\/strong\u003e \u003c\/span\u003efor flawless two-way monitoring communication\u003c\/li\u003e\n\u003cli\u003e\n\u003cb\u003e\u003cstrong\u003e\u003cspan\u003eMulti-functional walkie-talkie \u003c\/span\u003e–\u003cspan\u003e \u003c\/span\u003e\u003c\/strong\u003e\u003c\/b\u003eIt comes with a\u003cspan\u003e \u003c\/span\u003e\u003cstrong\u003ebuilt-in flashlight, radio, signal scanner, battery saving function\u003c\/strong\u003e, and 20 modifiable channels\u003c\/li\u003e\n\u003cli\u003e\n\u003cb\u003e\u003cstrong\u003e\u003cspan\u003eEmergency SOS call mode\u003c\/span\u003e\u003cspan\u003e \u003c\/span\u003e–\u003cspan\u003e \u003c\/span\u003e\u003c\/strong\u003e\u003c\/b\u003eThis function\u003cb\u003e\u003cstrong\u003e\u003cspan\u003e \u003c\/span\u003e\u003c\/strong\u003e\u003c\/b\u003eprovides you\u003cspan\u003e\u003cstrong\u003e safety protection\u003c\/strong\u003e\u003c\/span\u003e\u003cspan\u003e \u003c\/span\u003ewhile ensuring both speakers have a clear conversation at the same time\u003c\/li\u003e\n\u003cli\u003e\n\u003cb\u003e\u003cstrong\u003e\u003cspan\u003eEasy to operate with hands-free communication\u003c\/span\u003e\u003cspan\u003e \u003c\/span\u003e–\u003cspan\u003e \u003c\/span\u003e\u003c\/strong\u003e\u003c\/b\u003eThis is a voice-activated transmitting device that allows you to\u003cspan\u003e \u003c\/span\u003e\u003cspan\u003e\u003cstrong\u003etalk easily\u003c\/strong\u003e \u003c\/span\u003ewithout holding it\u003c\/li\u003e\n\u003cli\u003e\n\u003cspan\u003e\u003cb\u003e\u003cstrong\u003eCompact\u003c\/strong\u003e\u003c\/b\u003e \u0026amp; \u003cb\u003e\u003cstrong\u003eportable radio\u003c\/strong\u003e\u003c\/b\u003e\u003c\/span\u003e\u003cspan\u003e \u003c\/span\u003e– Designed to\u003cspan\u003e \u003c\/span\u003e\u003cspan\u003e\u003cstrong\u003eeasily fit into your bags\u003c\/strong\u003e\u003c\/span\u003eand pockets. With its mini antenna, there's no more bulky gizmo\u003c\/li\u003e\n\u003c\/ul\u003e\n\u003cp\u003e\u003cimg src=\"https:\/\/media.giphy.com\/media\/3NhGYy50Yjv2nxhxuk\/200w.webp\" alt=\"Animated GIF\" width=\"286\" height=\"286\"\u003e\u003c\/p\u003e\n\u003cp\u003eAs an added emergency gear, bring this military-grade\u003cspan\u003e \u003c\/span\u003e\u003cb\u003e\u003cstrong\u003eMilitary Grade Two-Way Radio Transceiver\u003c\/strong\u003e\u003c\/b\u003e\u003cspan\u003e \u003c\/span\u003eto any of your upcoming trips!\u003c\/p\u003e\n\u003cul\u003e\u003c\/ul\u003e\n\u003cp\u003e\u003cimg src=\"https:\/\/media.giphy.com\/media\/pcIZraLeGWoyqLcsza\/200w.webp\" alt=\"Animated GIF\" width=\"294\" height=\"294\"\u003e\u003c\/p\u003e\n\u003cp\u003e \u003c\/p\u003e\n\u003cp class=\"banner-img\"\u003e\u003cimg src=\"https:\/\/m.media-amazon.com\/images\/S\/aplus-media\/vc\/beae21f4-ffbc-40d0-a6c9-300551045464._CR0,0,300,300_PT0_SX300__.jpg\" alt=\"1\"\u003e\u003c\/p\u003e\n\u003ch4 class=\"a-spacing-mini\"\u003eBrighten the Night\u003c\/h4\u003e\n\u003cp\u003eBuilt-in light is cool for kids, as it can be used as nature exploration tool or emergency light in the dark environment. So the light not only can bring kids more fun but also can help kids find the way home safety in the evening.\u003c\/p\u003e\n\u003cp class=\"banner-img\"\u003e\u003cimg alt=\"1\" src=\"https:\/\/m.media-amazon.com\/images\/S\/aplus-media\/vc\/96d20bbd-87f8-4c09-acf0-25ce4d060db9._CR0,0,300,300_PT0_SX300__.jpg\"\u003e\u003c\/p\u003e\n\u003ch4 class=\"a-spacing-mini\"\u003eUniversal Compatibility\u003c\/h4\u003e\n\u003cp\u003eNo license required, but legal in the US. BoBeLa walkie talkies can not only compatible with each other but also support all the kids play together as long as they are on the same main channel and sub channel.\u003c\/p\u003e\n\u003cp class=\"banner-img\"\u003e\u003cimg alt=\"1\" src=\"https:\/\/m.media-amazon.com\/images\/S\/aplus-media\/vc\/d8795dc9-1359-41cd-825b-5be42d865132._CR0,0,300,300_PT0_SX300__.jpg\"\u003e\u003c\/p\u003e\n\u003ch4 class=\"a-spacing-mini\"\u003eVoice Activated Communication\u003c\/h4\u003e\n\u003cp\u003eHands-free communication(VOX) is useful when hands are busy. It is convenient for little kids and parents talk with each other without pressing the Push-To-Talk button. With the earpieces(Not included), the experience will be better.\u003c\/p\u003e\n\u003cp class=\"banner-img\"\u003e\u003cimg src=\"https:\/\/cdn.shopify.com\/s\/files\/1\/0027\/8357\/6153\/files\/12313_large.jpg?v=1552105593\" alt=\"\"\u003e\u003c\/p\u003e\n\u003ch4 class=\"a-spacing-mini\"\u003eKids Growth Partners\u003c\/h4\u003e\n\u003cp\u003eThey are the great tools not only for kids to enjoy the cosplay games, explore the nature, share more fun and get more friends but also for parents to keep in touch with kids, play with the kids, teach the kids and call kids back.\u003c\/p\u003e\n\u003cdiv class=\"banner-img\"\u003e\n\u003cimg src=\"https:\/\/cdn.shopify.com\/s\/files\/1\/0027\/8357\/6153\/files\/1231_large.jpg?v=1552105579\" alt=\"\"\u003e\n\u003cdiv class=\"banner-img\"\u003e \u003c\/div\u003e\n\u003cdiv class=\"banner-img\"\u003e\u003cimg alt=\"1\" src=\"https:\/\/m.media-amazon.com\/images\/S\/aplus-media\/vc\/1fb89e3a-cce2-44fb-9319-9afdb7617092._CR0,0,300,300_PT0_SX300__.jpg\"\u003e\u003c\/div\u003e\n\u003cdiv class=\"banner-img\"\u003e\n\u003ch4\u003eNotes:\u003c\/h4\u003e\n\u003cul\u003e\n\u003cli\u003eDue to the different monitor and light effect, the actual color of the item might be slightly different from the color showed in the pictures.\u003c\/li\u003e\n\u003c\/ul\u003e\n\u003ch4\u003e\u003cstrong\u003eShipping:\u003c\/strong\u003e\u003c\/h4\u003e\n\u003cul\u003e\n\u003cli\u003eWe processes orders between Monday and Friday. Orders will be processed within 15 business days of ordering and shipped out the next day after the processing day. We don't ship on weekends.\u003c\/li\u003e\n\u003c\/ul\u003e\n\u003ch4\u003e\u003cspan\u003ePAYMENT\u003c\/span\u003e\u003c\/h4\u003e\n\u003cul\u003e\n\u003cli\u003ePayPal is welcomed here\u003c\/li\u003e\n\u003cli\u003eIf you don't have a PayPal account, we accept all credit cards: just select '\u003cspan\u003e\u003cstrong\u003ePayPal' and click the 'Pay with Debit or CreditCard\u003c\/strong\u003e\u003c\/span\u003e' button\u003c\/li\u003e\n\u003c\/ul\u003e\n\u003c\/div\u003e\n\u003c\/div\u003e","published_at":"2019-06-03T04:47:57-04:00","created_at":"2019-06-03T04:48:04-04:00","vendor":"NiceBright","type":"Tools","tags":[],"price":5699,"price_min":5699,"price_max":5699,"available":true,"price_varies":false,"compare_at_price":12000,"compare_at_price_min":12000,"compare_at_price_max":12000,"compare_at_price_varies":false,"variants":[{"id":17593177702451,"title":"2 PCS \/ US","option1":"2 PCS","option2":"US","option3":null,"sku":"CBF169484_2","requires_shipping":true,"taxable":false,"featured_image":null,"available":true,"name":"Military Grade Two-Way Transceiver - 2 PCS \/ US","public_title":"2 PCS \/ US","options":["2 PCS","US"],"price":5699,"weight":0,"compare_at_price":12000,"inventory_management":null,"barcode":""},{"id":17593177735219,"title":"2 PCS \/ EU","option1":"2 PCS","option2":"EU","option3":null,"sku":"CBF169485_2","requires_shipping":true,"taxable":false,"featured_image":null,"available":true,"name":"Military Grade Two-Way Transceiver - 2 PCS \/ EU","public_title":"2 PCS \/ EU","options":["2 PCS","EU"],"price":5699,"weight":0,"compare_at_price":12000,"inventory_management":null,"barcode":""},{"id":17593177767987,"title":"2 PCS \/ AU","option1":"2 PCS","option2":"AU","option3":null,"sku":"CBF169545_2","requires_shipping":true,"taxable":false,"featured_image":null,"available":true,"name":"Military Grade Two-Way Transceiver - 2 PCS \/ AU","public_title":"2 PCS \/ AU","options":["2 PCS","AU"],"price":5699,"weight":0,"compare_at_price":12000,"inventory_management":null,"barcode":""},{"id":17593177800755,"title":"2 PCS \/ UK","option1":"2 PCS","option2":"UK","option3":null,"sku":"CBF169486_2","requires_shipping":true,"taxable":false,"featured_image":null,"available":true,"name":"Military Grade Two-Way Transceiver - 2 PCS \/ UK","public_title":"2 PCS \/ UK","options":["2 PCS","UK"],"price":5699,"weight":0,"compare_at_price":12000,"inventory_management":null,"barcode":""}],"images":["\/\/cdn.shopify.com\/s\/files\/1\/0024\/0218\/9363\/products\/01_3ee31daf-6a5c-4477-84e4-0698a5d72a34.png?v=1559551684","\/\/cdn.shopify.com\/s\/files\/1\/0024\/0218\/9363\/products\/02_e2c2d72f-3371-4e20-aac8-b4552fa29d49.png?v=1559551684","\/\/cdn.shopify.com\/s\/files\/1\/0024\/0218\/9363\/products\/03_e3b52ff7-6d31-4438-92e8-f16c7519de05.png?v=1559551684","\/\/cdn.shopify.com\/s\/files\/1\/0024\/0218\/9363\/products\/04_2b5b53e8-ef3b-4e07-a5bb-26f1eb91893a.png?v=1559551684","\/\/cdn.shopify.com\/s\/files\/1\/0024\/0218\/9363\/products\/05_64c42dfe-52c0-4173-bc9c-550903720401.png?v=1559551684","\/\/cdn.shopify.com\/s\/files\/1\/0024\/0218\/9363\/products\/06_6609163e-76a6-4cec-8060-dcf53693639b.png?v=1559551684","\/\/cdn.shopify.com\/s\/files\/1\/0024\/0218\/9363\/products\/07_cab07555-d97d-4124-94e0-5bc9a35b5852.png?v=1559551684"],"featured_image":"\/\/cdn.shopify.com\/s\/files\/1\/0024\/0218\/9363\/products\/01_3ee31daf-6a5c-4477-84e4-0698a5d72a34.png?v=1559551684","options":["BUY 1 GET 1 FREE","PLUG"],"content":"\u003cp\u003e\u003cimg src=\"\/\/cdn.shopify.com\/s\/files\/1\/0223\/0294\/9440\/files\/safecheckout_large.png?v=1547880307\" alt=\"\"\u003e\u003c\/p\u003e\n\u003cp\u003eCommunicate clearly, freely and instantly with this\u003cb\u003e\u003cstrong\u003e\u003cspan\u003e \u003c\/span\u003eMilitary Grade Two-Way Radio Transceiver!\u003cspan\u003e \u003c\/span\u003e\u003c\/strong\u003e\u003c\/b\u003eCompared to a mobile phone, this device doesn't cost a dime to call out on anyone. With its integrated antenna, you simply press the button and reach out to everyone without trouble – even in spots where mobile signal is unavailable! This is the\u003cspan\u003e \u003c\/span\u003e\u003cspan\u003e\u003cstrong\u003ePerfect\u003c\/strong\u003e\u003c\/span\u003e\u003cspan\u003e \u003c\/span\u003ewalkie-talkie for your camping and hunting excursions! \u003c\/p\u003e\n\u003cp\u003e\u003cimg src=\"https:\/\/cdn.shopify.com\/s\/files\/1\/0013\/7727\/1880\/files\/Two-Way_Radio_Transceiver_PP.gif?2046652650401029124\"\u003e\u003c\/p\u003e\n\u003cul\u003e\n\u003cli\u003e\n\u003cspan\u003e\u003cb\u003e\u003cstrong\u003eLong-distance frequency coverage\u003c\/strong\u003e\u003c\/b\u003e\u003c\/span\u003e\u003cspan\u003e \u003c\/span\u003e– This is a micro-miniature multiband FM transceiver created to reach long distances with\u003cspan\u003e \u003c\/span\u003e\u003cspan\u003e\u003cstrong\u003ewide-ranging frequency coverage\u003c\/strong\u003e \u003c\/span\u003efor flawless two-way monitoring communication\u003c\/li\u003e\n\u003cli\u003e\n\u003cb\u003e\u003cstrong\u003e\u003cspan\u003eMulti-functional walkie-talkie \u003c\/span\u003e–\u003cspan\u003e \u003c\/span\u003e\u003c\/strong\u003e\u003c\/b\u003eIt comes with a\u003cspan\u003e \u003c\/span\u003e\u003cstrong\u003ebuilt-in flashlight, radio, signal scanner, battery saving function\u003c\/strong\u003e, and 20 modifiable channels\u003c\/li\u003e\n\u003cli\u003e\n\u003cb\u003e\u003cstrong\u003e\u003cspan\u003eEmergency SOS call mode\u003c\/span\u003e\u003cspan\u003e \u003c\/span\u003e–\u003cspan\u003e \u003c\/span\u003e\u003c\/strong\u003e\u003c\/b\u003eThis function\u003cb\u003e\u003cstrong\u003e\u003cspan\u003e \u003c\/span\u003e\u003c\/strong\u003e\u003c\/b\u003eprovides you\u003cspan\u003e\u003cstrong\u003e safety protection\u003c\/strong\u003e\u003c\/span\u003e\u003cspan\u003e \u003c\/span\u003ewhile ensuring both speakers have a clear conversation at the same time\u003c\/li\u003e\n\u003cli\u003e\n\u003cb\u003e\u003cstrong\u003e\u003cspan\u003eEasy to operate with hands-free communication\u003c\/span\u003e\u003cspan\u003e \u003c\/span\u003e–\u003cspan\u003e \u003c\/span\u003e\u003c\/strong\u003e\u003c\/b\u003eThis is a voice-activated transmitting device that allows you to\u003cspan\u003e \u003c\/span\u003e\u003cspan\u003e\u003cstrong\u003etalk easily\u003c\/strong\u003e \u003c\/span\u003ewithout holding it\u003c\/li\u003e\n\u003cli\u003e\n\u003cspan\u003e\u003cb\u003e\u003cstrong\u003eCompact\u003c\/strong\u003e\u003c\/b\u003e \u0026amp; \u003cb\u003e\u003cstrong\u003eportable radio\u003c\/strong\u003e\u003c\/b\u003e\u003c\/span\u003e\u003cspan\u003e \u003c\/span\u003e– Designed to\u003cspan\u003e \u003c\/span\u003e\u003cspan\u003e\u003cstrong\u003eeasily fit into your bags\u003c\/strong\u003e\u003c\/span\u003eand pockets. With its mini antenna, there's no more bulky gizmo\u003c\/li\u003e\n\u003c\/ul\u003e\n\u003cp\u003e\u003cimg src=\"https:\/\/media.giphy.com\/media\/3NhGYy50Yjv2nxhxuk\/200w.webp\" alt=\"Animated GIF\" width=\"286\" height=\"286\"\u003e\u003c\/p\u003e\n\u003cp\u003eAs an added emergency gear, bring this military-grade\u003cspan\u003e \u003c\/span\u003e\u003cb\u003e\u003cstrong\u003eMilitary Grade Two-Way Radio Transceiver\u003c\/strong\u003e\u003c\/b\u003e\u003cspan\u003e \u003c\/span\u003eto any of your upcoming trips!\u003c\/p\u003e\n\u003cul\u003e\u003c\/ul\u003e\n\u003cp\u003e\u003cimg src=\"https:\/\/media.giphy.com\/media\/pcIZraLeGWoyqLcsza\/200w.webp\" alt=\"Animated GIF\" width=\"294\" height=\"294\"\u003e\u003c\/p\u003e\n\u003cp\u003e \u003c\/p\u003e\n\u003cp class=\"banner-img\"\u003e\u003cimg src=\"https:\/\/m.media-amazon.com\/images\/S\/aplus-media\/vc\/beae21f4-ffbc-40d0-a6c9-300551045464._CR0,0,300,300_PT0_SX300__.jpg\" alt=\"1\"\u003e\u003c\/p\u003e\n\u003ch4 class=\"a-spacing-mini\"\u003eBrighten the Night\u003c\/h4\u003e\n\u003cp\u003eBuilt-in light is cool for kids, as it can be used as nature exploration tool or emergency light in the dark environment. So the light not only can bring kids more fun but also can help kids find the way home safety in the evening.\u003c\/p\u003e\n\u003cp class=\"banner-img\"\u003e\u003cimg alt=\"1\" src=\"https:\/\/m.media-amazon.com\/images\/S\/aplus-media\/vc\/96d20bbd-87f8-4c09-acf0-25ce4d060db9._CR0,0,300,300_PT0_SX300__.jpg\"\u003e\u003c\/p\u003e\n\u003ch4 class=\"a-spacing-mini\"\u003eUniversal Compatibility\u003c\/h4\u003e\n\u003cp\u003eNo license required, but legal in the US. BoBeLa walkie talkies can not only compatible with each other but also support all the kids play together as long as they are on the same main channel and sub channel.\u003c\/p\u003e\n\u003cp class=\"banner-img\"\u003e\u003cimg alt=\"1\" src=\"https:\/\/m.media-amazon.com\/images\/S\/aplus-media\/vc\/d8795dc9-1359-41cd-825b-5be42d865132._CR0,0,300,300_PT0_SX300__.jpg\"\u003e\u003c\/p\u003e\n\u003ch4 class=\"a-spacing-mini\"\u003eVoice Activated Communication\u003c\/h4\u003e\n\u003cp\u003eHands-free communication(VOX) is useful when hands are busy. It is convenient for little kids and parents talk with each other without pressing the Push-To-Talk button. With the earpieces(Not included), the experience will be better.\u003c\/p\u003e\n\u003cp class=\"banner-img\"\u003e\u003cimg src=\"https:\/\/cdn.shopify.com\/s\/files\/1\/0027\/8357\/6153\/files\/12313_large.jpg?v=1552105593\" alt=\"\"\u003e\u003c\/p\u003e\n\u003ch4 class=\"a-spacing-mini\"\u003eKids Growth Partners\u003c\/h4\u003e\n\u003cp\u003eThey are the great tools not only for kids to enjoy the cosplay games, explore the nature, share more fun and get more friends but also for parents to keep in touch with kids, play with the kids, teach the kids and call kids back.\u003c\/p\u003e\n\u003cdiv class=\"banner-img\"\u003e\n\u003cimg src=\"https:\/\/cdn.shopify.com\/s\/files\/1\/0027\/8357\/6153\/files\/1231_large.jpg?v=1552105579\" alt=\"\"\u003e\n\u003cdiv class=\"banner-img\"\u003e \u003c\/div\u003e\n\u003cdiv class=\"banner-img\"\u003e\u003cimg alt=\"1\" src=\"https:\/\/m.media-amazon.com\/images\/S\/aplus-media\/vc\/1fb89e3a-cce2-44fb-9319-9afdb7617092._CR0,0,300,300_PT0_SX300__.jpg\"\u003e\u003c\/div\u003e\n\u003cdiv class=\"banner-img\"\u003e\n\u003ch4\u003eNotes:\u003c\/h4\u003e\n\u003cul\u003e\n\u003cli\u003eDue to the different monitor and light effect, the actual color of the item might be slightly different from the color showed in the pictures.\u003c\/li\u003e\n\u003c\/ul\u003e\n\u003ch4\u003e\u003cstrong\u003eShipping:\u003c\/strong\u003e\u003c\/h4\u003e\n\u003cul\u003e\n\u003cli\u003eWe processes orders between Monday and Friday. Orders will be processed within 15 business days of ordering and shipped out the next day after the processing day. We don't ship on weekends.\u003c\/li\u003e\n\u003c\/ul\u003e\n\u003ch4\u003e\u003cspan\u003ePAYMENT\u003c\/span\u003e\u003c\/h4\u003e\n\u003cul\u003e\n\u003cli\u003ePayPal is welcomed here\u003c\/li\u003e\n\u003cli\u003eIf you don't have a PayPal account, we accept all credit cards: just select '\u003cspan\u003e\u003cstrong\u003ePayPal' and click the 'Pay with Debit or CreditCard\u003c\/strong\u003e\u003c\/span\u003e' button\u003c\/li\u003e\n\u003c\/ul\u003e\n\u003c\/div\u003e\n\u003c\/div\u003e"}
Military Grade Two-Way Transceiver
Military Grade Two-Way Transceiver
Product Description
Communicate clearly, freely and instantly with this Military Grade Two-Way Radio Transceiver! Compared to a mobile phone, this device doesn't cost a dime to call out on anyone. With its integrated antenna, you simply press the button and reach out to everyone without trouble – even in spots where mobile signal is unavailable! This is the Perfect walkie-talkie for your camping and hunting excursions! 
Long-distance frequency coverage

 

– This is a micro-miniature multiband FM transceiver created to reach long distances with

 

wide-ranging frequency coverage for flawless two-way monitoring communication

Multi-functional walkie-talkie 

–

 

It comes with a

 

built-in flashlight, radio, signal scanner, battery saving function, and 20 modifiable channels

Emergency SOS call mode

 

–

 

This function

 

provides you safety protection

 

while ensuring both speakers have a clear conversation at the same time

Easy to operate with hands-free communication

 

–

 

This is a voice-activated transmitting device that allows you to

 

talk easily without holding it
Compact & portable radio

 

– Designed to

 

easily fit into your bagsand pockets. With its mini antenna, there's no more bulky gizmo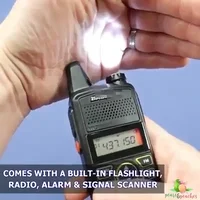 As an added emergency gear, bring this military-grade Military Grade Two-Way Radio Transceiver to any of your upcoming trips!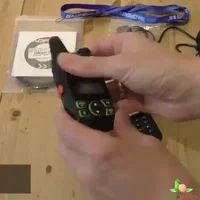 Brighten the Night
Built-in light is cool for kids, as it can be used as nature exploration tool or emergency light in the dark environment. So the light not only can bring kids more fun but also can help kids find the way home safety in the evening.
Universal Compatibility
No license required, but legal in the US. BoBeLa walkie talkies can not only compatible with each other but also support all the kids play together as long as they are on the same main channel and sub channel.
Voice Activated Communication
Hands-free communication(VOX) is useful when hands are busy. It is convenient for little kids and parents talk with each other without pressing the Push-To-Talk button. With the earpieces(Not included), the experience will be better.
Kids Growth Partners
They are the great tools not only for kids to enjoy the cosplay games, explore the nature, share more fun and get more friends but also for parents to keep in touch with kids, play with the kids, teach the kids and call kids back.